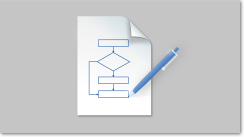 In the process of systems development, it is essential to take into account also these systems' security against external attacks.
This problematic subject matter is a very extensive one and that is why companies often contact professionals which complement the original design with security elements and confront it with potential threats.
If you want to secure your system against external threats, we offer you comprehensive services and support in designing your software security.
Analysis and Design of Cryptographic Algorithms
Implementation of cryptographic algorithms into your system ensures the following:
Data protection against abuse and unauthorized modification
System aimed at preventing unauthorized access
Resistance to attacks on the stability of a system
Analysis and Design of Secure Communication Protocols
Well-designed communication protocols increase the level of system security. They authenticate the identity of communication participants and thereby ensure secure data transmission. It is done by securing communication against unauthorized capture and modification of transmitted data.