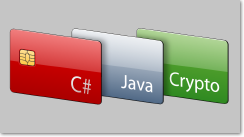 In the area of chip cards, ProtoWay provides consulting, analytical and development services, as well as the delivery of complete systems including chip cards themselves, terminals and full user support.
We are ready to offer you our experience and to arrange the most effective handling of this technology while maximizing use of its capabilities.
We will readily help you with the following:
Selection of the appropriate type of a chip card (cryptography support, native or open system, programmable cards)
Selection of the appropriate reader
Selection of the appropriate interface with personalization capabilities (imprint, chip, PIN)
Integration into operating systems (midlleware, cryptographic interfaces, applets)
And last but not least − integration into applications, infrastructure, PKI key management and card administration
Choose a chip card that suits best your requirements:
TOP IM GX4
ID-ONE COSMO 64 RSA
A dual chip card contains one chip with the capability to communicate through contact, as well as contactless interfaces. It therefore allows to use the functionality of a contact chip via contactless devices.
TOP DM GX4
ID-ONE COSMO 64 RSA v5.4
A hybrid chip card contains two mutually independent chips – one contact chip and one contactless chip. Contactless chip capabilities: MIFARE, MIFARE DESFIRE, EM Marine, HID iCLASS, HID Proximity, Legic.
TOP IM GX4 +1K Mifare
ID-ONE COSMO 64 RSA + 1K Mifare
These cards are natively supported in Windows XP SP3 (or higher) operating systems. Their use does not require any other software (middleware) installation.
They comply with the ".NET Framework for Smart Cards" standard.
128K EEPROM
Extended cryptographic functions: DES, 3DES, AES, SHA-1, SHA-2, RSA RSA keys (1 024 and 2 048 bits).
CryptoAPI and PKCS#11 interface
MS Base CSP v6 compliant
OATH OTP compliant
Optional delivery in combination with an RFID chip
Offer from Gemalto
Offer from ST Microelectronic

Secure chips

Native code
High performance
Direct implementation of cryptographic algorithms
Secure memories, OTP memories